In this tutorial, you will learn how to create a new Dropbox in the Submission Review area. New Dropboxes default to being hidden from students, so make sure you adjust the visibility once you are ready for students to access this Dropbox.
Step-by-Step:
Click on Submissions on the Navbar


Click on Dropboxes


Click on New Folder


Enter a Name for the Dropbox


Enter a Points value in the score box


Select the grade item this Dropbox will be associated with from the Grades Drop Down Menu (see note below on grade items)




ATTENTION: If you leave the "In Grade Book" option selected from the dropdown menu, the system will AUTOMATICALLY CREATE A COORESPONDING GRADE ITEM FOR THIS DROPBOX in your Gradebook. If you do NOT want a new grade item created, you can select to link this dropbox to an existing grade time, or select for it not to be in gradebook.

Enter a Due Date


Add Instructions


Adjust Availability Dates & Conditions settings as needed. Start and end dates, special access, and restrictions.


Adjust Submission & Completion settings as needed. Add to a Dropbox category, and adjust submission settings such as submission type.


Adjust Evaluation & Feedback settings as needed. Enable Turnitin or add a rubric here.


Adjust Visibility. New Dropboxes default to hidden, click the visibility toggle to allow students to see this dropbox in the course. The icon below shows the hidden setting.



Click Save and Close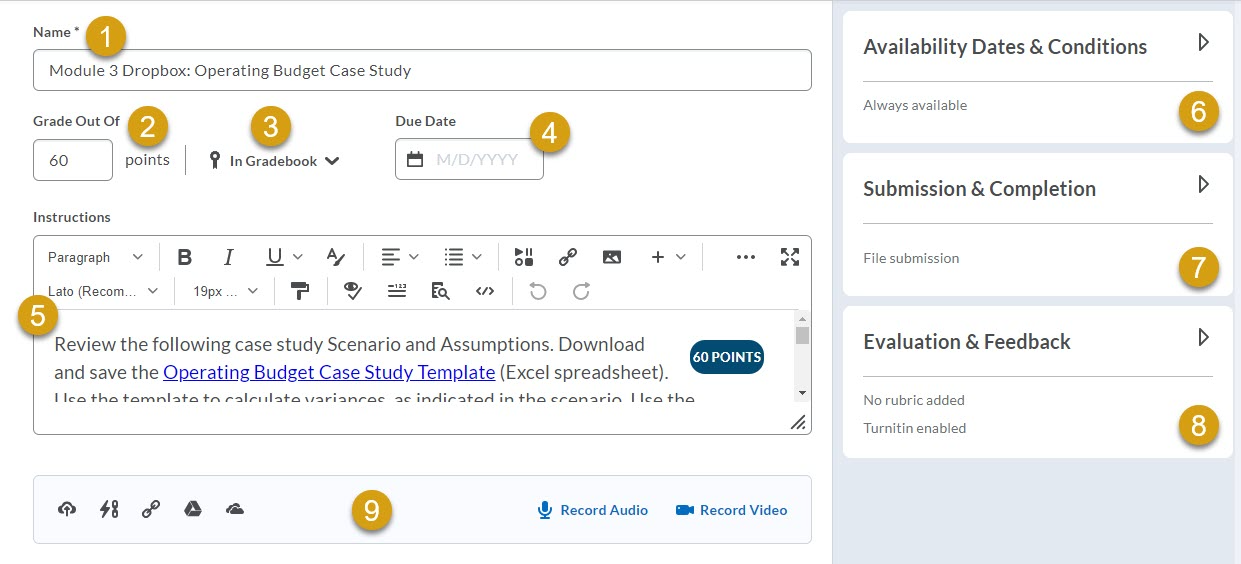 Name

: Title of the dropbox


Score Out Of: Total points the assignment is worth


Grade Item Association: Select which grade item this dropbox is connected to in this area once a points value has been added. See the note above about the dropdown menu


Due Date: Note the default Due Date time is set to 11:59 pm


Instructions: Html text editor for adding instructions and attaching files/links


Availability Dates & Conditions: Set availability dates, special access, and restrictions


Submission & Completion: Set submission conditions and settings. Add or edit the dropbox category here. See the guide linked below for a more in-depth review of these settings


Evaluation & Feedback: Set evaluation and feedback settings like rubrics and Turnitin


External Attachments: Attaches files and links outside of the instructions area.
---
0
0
Was this article helpful?
0 out of 0 found this helpful