It is recommended that each video not exceed 6-9 minutes in length. When possible, chunk material into smaller topics that students can easily watch on the go or in short segments. See the articles below for some recommendations on video lengths.  
SPC now has PANOPTO Video Hosting and Creation Platform. Please consider hosting your Academic Content on PANOPTO instead of a YouTube channel for more security. Reach out to mycourses4faculty@spcollege.edu for information on accessing your Panopto Account.
After uploading your videos, please make sure that they are captioned so that they are accessible to all. YouTube does auto-caption but often requires edits to be made by the user. Captioning YouTube Videos- Make your Videos Accessible to ALL


Uploading a Video to YouTube:
Go to https://www.youtube.com
Click on Sign In
Click on the Video Camera in the top right
 
Click Upload Video.
Upload Your File(s)




Click the Upload Arrow to select files from your computer OR
Click on
Change Public to Unlisted



A processing page will appear. Depending on your large your video is, it may take several minutes to finish processing the upload. You can leave this page while the video processes.


Editing a Video while it Processes
There are several options for editing your video while it completes it processing. Edits can also be done after the video is uploaded in the event changes are needed.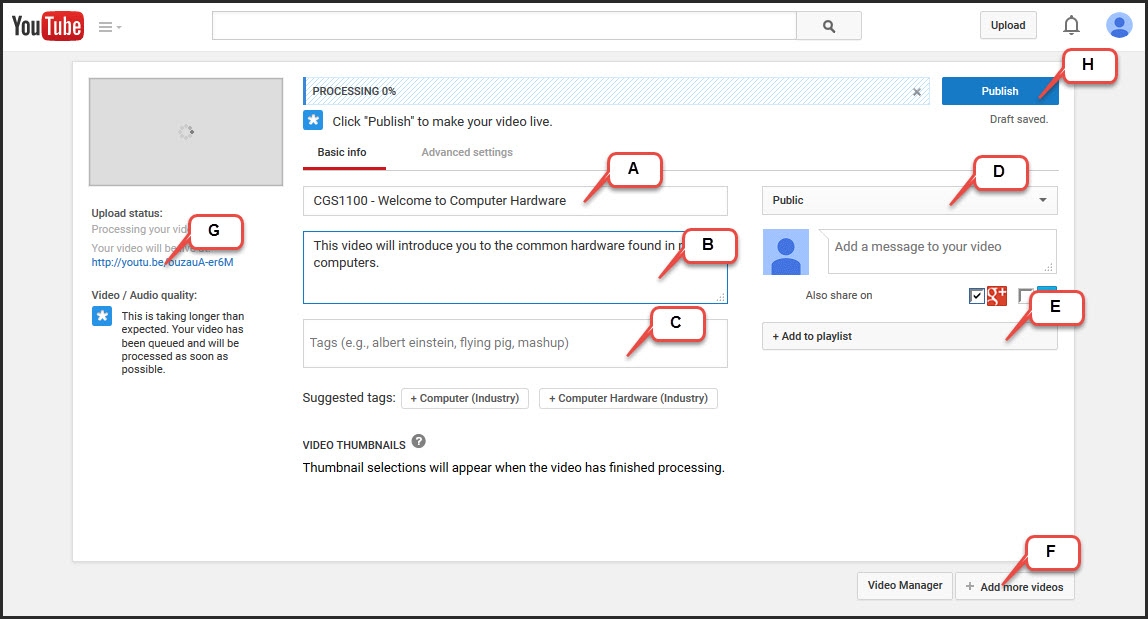 Name - Enter a descriptive name for your video
Description - Enter a description for your video
Tags - Enter tags or search words for your video to make it easy to locate
Listing - Change Public to Unlisted so that only those you share the link with have access to the video. Leaving the listing as Public will allow it to be found by anyone searching YouTube
Add to Playlist - Add the video to an existing playlist or create a new playlist from this dropdown to better organize your videos
Add More Videos - Click to upload additional videos
Link - this will be the link to your video once it has completed processing and has been published (see the step below)
Publish - Click to save and publish your changes. When the video finishes processes, it will be made available on your Channel.
---
0
0
Was this article helpful?
0 out of 0 found this helpful